THE MICHAEL McDONALD CONNECTION

---

Provided as a public service by Steve Miller



In October 2013, supporters of presidential candidate Ron Paul succeeded in re-electing a very flawed state GOP chairman, Michael McDonald. Since then, McDonald based on his nefarious associations, secret bankruptcy, and history of ethical transgressions has caused the Nevada GOP organization to implode.

---

In fairness, please review McDonald's personal website prior to reading the exhibits below. There is quite a contrast between the image he wants to convey, and the facts.

---
Mayor Oscar Goodman signed McDonald's Recall Petition
---
McDonald cheated American Express, CityBank, and Wells Fargo out of $109,682.00 in unpaid credit card charges (see below), then -- without disclosing his bankruptcy -- applied for millions in tax funded grants from the City of Las Vegas, and again without disclosing his bankruptcy was elected Chariman of the Nevada Republican Party to promote Ron Paul, and be responsible for handling millions of dollars in political campaign contributions.
FULL BANKRUPTCY FILING: http://www.stevemiller4lasvegas.com/McDonald,MichaelJBK13convertedto7docs0001.pdf
Shortly after filing bankruptcy, McDonald's house located at 2520 Pinto Lane in a plush Las Vegas neighborhood went into foreclosure. It was purchased by CLUB BR, LLC, a company owned by golf course developer Billy Walters. With McDonald's help on the city council, in 1999, the City of Las Vegas sold Walters 160 acres of taxpayer owned land for an amazingly low $894,000 ($6,400 per ac.) In 2005, Walters sold the same land for $54 million! Did Walters owe McDonald a giant favor - possibly providing him free room and board since the bankruptcy?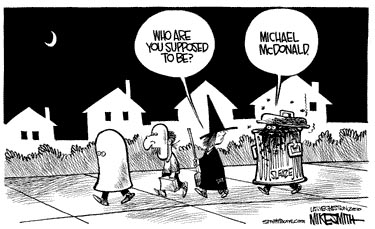 LAS VEGAS SUN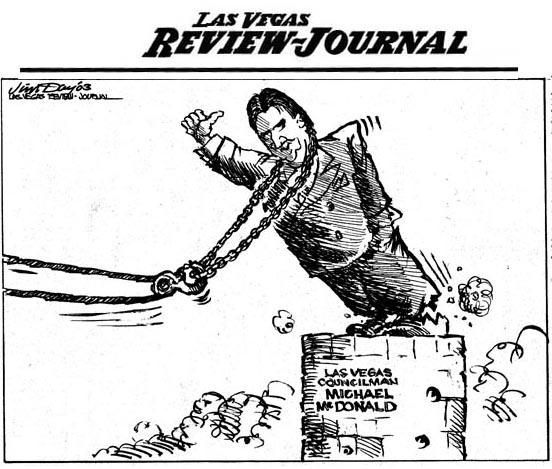 HOW I GOT McDONALD OFF THE LV CITY COUNCIL:
http://www.americanmafia.com/Inside_Vegas/8-23-04_Inside_Vegas.html
RECENT NEWS STORIES:
EDITORIAL: McDonald's state juice job jabs taxpayers
September 19, 2015
Las Vegas Review-Journ
EDITORIAL: McDonald cannot continue as state GOP chairman
September 5, 2015
Las Vegas Review-Journal
But it's alarming to see this clown show counting down the days until they put on the state's Feb. 20 presidential caucuses, an event that will put Nevada in the national spotlight for weeks. And McDonald will be shaking every candidate's hand. At the top of the state party's website is a red button that reads "$ DONATE," just above McDonald's name. Donors would have to be stupid or ignorant to send McDonald their money.
Some lost, others won with Miracle Flights loan
By John L. Smith
Las Vegas Review-Journal
July 28, 2015
A single ledger for July 2014 showed hundreds of thousands of dollars going off the books in what was described as loans to shareholders. Among the recipients: former Miracle Flights board member and Med Lien new-hire Michael McDonald, the chairman of the Nevada Republican Party and a former Las Vegas city councilman. One ledger entry notes $200,000 going to "McDonald Nevada." In a recent interview, McDonald denied receiving a loan, or committing an ethical breach, noting that he paid taxes on his income as a Med Lien government affairs consultant. He found nothing inappropriate about the timing of the business relationship. Although he was on the board at the time the loan was approved, and was a close friend of Brad Esposito, McDonald didn't vote on the contract.
No shortage of curious conflicts in Miracle Flights' bad loan
John L. Smith
LAS VEGAS REVIEW-JPURNAL
July 22, 2015
But according to a July 2014 company ledger, McDonald also had access to Med Lien assets. McDonald said the lien company's five-page ledger, now entered as an exhibit in the lawsuit, inaccurately describes the $140,000 he received on July 31, 2014, as a "Shareholder loan." On Another page, there is another entry of "$200,000" under the heading " Investor Loan-McDonald Nevada." " There is no loan," he said. " I don't have a loan. ... It wasn't a loan. I declared it on my taxes as income." Perhaps not, but the timing of his business relationship with Med Lien was nothing short of amazing. Despite his long friendship with Esposito, McDonald said he had nothing to do with connecting Med Lien with Miracle Flights.
Where's the transparency? Nonprofit just won't say
By JANE ANN MORRISON
LAS VEGAS REVIEW-JOURNAL
March 4, 2015
Efforts to find out why the previous board left were unsuccessful. Las Vegas businessman and former Henderson councilman Larry Scheffler had been on the board more than 25 years. The other longtime board members included former Las Vegas City Councilman Michael McDonald and his friend Rick Henry and Jeana Yeager. McDonald said a confidentially agreement prevented him from commenting. Scheffler and Henry failed to return repeated calls. Yeager couldn't be reached.
Juiced deal dies
EDITORIAL
LAS VEGAS REVIEW-JOURNAL
Sep. 13, 2012
It was clear the expensive "affordable housing" project didn't pencil out and didn't make sense, given a real estate market with no shortage of cheap homes and Mr. McDonald's sketchy political history and limited business experience.
Tax credit application for senior housing units denied
By Benjamin Spillman
LAS VEGAS REVIEW-JOURNAL
Sep. 10, 2012
An affordable housing proposal by a former Las Vegas councilman and current state Republican Party official won't be getting any help from city taxpayers after all. The denial prompted city officials to terminate their development agreement with McDonald, a deal that included about $3.9 million in public funds to subsidize the plan. "It seems that it went through City Council rather easily," said Martin Dean Dupalo, president of the Nevada Center for Public Ethics. "I think it had more to do with his political access and less his business qualifications and track record." Dupalo called the state's decision to deny credits and essentially undercut McDonald's agreement with the city "refreshing" because it prevented public money from going to what appeared to be a flawed project that would have rewarded former public officials for having good connections at City Hall.
Las Vegas City Council let cronyism cloud judgmentTools
Jane Ann Morrison
LAS VEGAS REVIEW-JOURNAL
Jul. 14, 2012
Thank heavens state officials looked at the issues and weren't swayed by cronyism. Apparently, she (Mayor Carolyn Goodman) and the others were not concerned about McDonald's lack of experience or his ethical challenges, or his Chapter 7 bankruptcy from 2009, which erased more than $333,000 in claims against him.
Senior housing development: State puts brakes on controversial city deal
EDITORIAL
LAS VEGAS REVIEW-JOURNAL
Jul. 13, 2012
Mr. McDonald - also the current chairman of the state Republican Party - hoped to collect a $1.3 million "development fee" for his efforts. Couldn't these objections have been foreseen, given the controversial nature of the deal and those involved? The City Council ignored the concerns of a number of critics when it moved the project forward by a 6-1 vote. Both Mr. McDonald and Mr. Hawkins have every right to pursue entrepreneurial business arrangements, of course. But with their backgrounds and political connections, this one had trouble passing a basic smell test. Now the state has apparently agreed. Good.
'Developer' McDonald asks Las Vegas City Council members to vouch for him with state officials
By Jon Ralston
LAS VEGAS SUN
Monday, June 11, 2012
Former Las Vegas Councilman Michael McDonald, apparently running into some trouble in his effort to get state tax credits, has presented supportive council members with a letter he wants them to sign to boost his chances. The letter, which I have obtained and posted at right, is to be sent to Hilary Lopez, who is in charge of federal programs with the state. McDonald and his "consultant" Frank Hawkins need the state tax credits to make the deal work that was approved by the council in April with a gift of $4 million to get them started. McDonald has failed before at a similar project and defaulted on it.
Michael McDonald's city deal gets curiouser and curiouser
By Jon Ralston
LAS VEGAS SUN
Friday, May 4, 2012
He doesn't have any money. He doesn't have any experience. All Michael McDonald has is one of the sweeter deals in development history with a local government. I was curious where McDonald could come up with such a hefty sum, having emerged less than two years ago from bankruptcy, his house only saved by the generosity of developer/gambler Billy Walters, who purchased McDonald's expensive home in a short sale
and let the indebted ex-councilman stick around.
With McDonald's help in 1999, Billy Walters paid $894,000 for 160 acres of public land. In 2005, Walters sold it for $54 million! Did Walters owe McDonald a giant favor perhaps lobbying the City Council to award him grants, or providing him free room and board?
Par for the course
Sweetheart land deal expected to pass under the radar - again
INSIDE VEGAS by Steve Miller
AmericanMafia.com
July 11, 2005

Back in 1999 when Walters purchased the 160 taxpayer-owned acres for only $894,000, he did so with the caveat that he would charge low green fees for locals, and accept a permanent deed restriction to limit the land's use to golf course only. An unusually vocal McDonald argued vehemently that the $894,000 was desperately needed for parks. He didn't mention that removing the restriction would catapult the land value to between $300,000 and $400,000 per acre, or that the taxpayers who begrudgingly sold him the land won't have a stake in the new game.
.

(Las Vegas Review-Journal photos)
Steve watches as Councilman Michael McDonald is questioned by the State Ethics Commission
on favors he did for Republic Silver State Disposal, Billy Walters, two strip club operators, and
others. Following the meeting held in 2000, McDonald expresses anger after the Commission
found probable cause to prosecute him based on Steve's complaint.
---
Now we'll see whether GOP can take punch
John L. Smith
Copyright © Las Vegas Review-Journal
Sunday, April 29, 2012
His personal associations and questionable consulting deals tattered his reputation as a local boy who made good. He was heavily scrutinized by Metro, the FBI and the IRS during the investigations of former topless cabaret moguls Rick Rizzolo and Michael Galardi.

Nevada Republicans light fuse to self-destruction
By Jon Ralston
LAS VEGAS SUN
Wednesday, April 25, 2012
As the Nevada Policy Research Institute said in a screed Tuesday: "You just can't make this stuff up." The conservative think tank was referring to McDonald's latest juice job at City Hall, with NPRI correctly pointing out that McDonald has a pattern of questionable conduct. Indeed, McDonald almost was thrown out of office 11 years ago after the state Ethics Commission found "his loyalty to his employer motivated him to assist (his private sector boss) in attempting to overcome a difficult financial situation by using access to staff and other members of the City Council (which an ordinary member of the public would not have) and lobbying them to take action which would benefit (his boss) and, therefore, himself. ... There was absolutely no evidence that the action Councilman McDonald was advocating ... was a good economic deal for the City of Las Vegas and in the public's interest."

Ex-councilman's past might prepare him to be GOP chairman
John L. Smith
Copyright © Las Vegas Review-Journal
March 8, 2012
Although it was a brief encounter back in October 2008, the deposition McDonald gave in the litigation of Kirk and Amy Henry against Rick Rizzolo and former wife Lisa Rizzolo is an example. The deposition isn't damning so much for what it says, but for how McDonald responded to the questions of Henry attorney Donald Campbell. The Henrys are suing the Rizzolos to recover the $10 million the topless mogul agreed to pay them to settle a civil claim after Kirk Henry was nearly killed in a beating outside the Crazy Horse Too topless club. In short, McDonald pleaded the Fifth Amendment against self-incrimination. By my count, he took the Fifth 10 times in 10 pages of transcribed deposition. That's not a record, but that also doesn't make McDonald appear he had nothing to hide in connection with what he might know about where the Rizzolos stashed any money and merchandise that might benefit a quadriplegic and his wife and kids.

Mar. 01, 2009
Copyright © Las Vegas Review-Journal
JOHN L. SMITH: Grand jury investigation of McDonald keeps Rizzolo in hot seat
If Rick Rizzolo dreamed of living happily ever after, he was only kidding himself. He must know that by now. He was recently served with a subpoena compelling his testimony before a federal grand jury in a brewing Internal Revenue Service tax case against his friend, former Las Vegas City Councilman and ex-Metro police officer Michael McDonald. Unless defense attorney Tony Sgro can figure a way to get that subpoena quashed, I'm hearing Rizzolo will receive limited immunity from prosecution and be ordered to answer questions about his long relationship with McDonald.

May 24, 2006
Copyright © Las Vegas Review-Journal
JOHN L. SMITH: On Frank Cremen entering the DA's race: Better late than never
Cremen used McDonald's case as an example of a councilman who was found to be receiving $5,000 a month from topless bar owner Rick Rizzolo and appeared to be running interference for his friend. Cremen said he believes the district attorney should take a more pro-active approach in such cases and issue subpoenas. "If the police department knows you have a DA who will work with them, stand up and draw a line and try to protect the line and not just be pushed over, I think you'll have more law enforcement action," he said.

KLAS-TV News
Copyright 2003 by The Associated Press
Vegas Councilman Caught Up In FBI Probe Loses Re-Election
(June 3, 2003) -- McDonald, who has been caught up in a federal probe involving possible corruption, is congratulating Moncrief for a hard-fought victory. But his campaign manager says the timing of the FBI investigation was horrible and it hurt their efforts. McDonald is one of four current or former public officials named in a search warrant served at a local strip club last month. The warrant says authorities were looking for records about "payments or gifts" to the officials by the club's owners. McDonald has denied any wrongdoing and says he is NOT a target of the investigation.

FBI photo of then-councilman McDonald and Mike Galardi in San Diego
Mob Connections May End Vegas Councilman's Career
INSIDE VEGAS by Steve Miller
AmericanMafia.com
April 14, 2003
Then something amazing happened. The straight shooter cop started wearing a $20,000 Rolex President watch, Italian silk suits, and driving several expensive new SUV's while his absences at the police station caught his superior's attention. But that was not the end of the transformation. McDonald joined an expensive social club, and moved into a half million dollar golf course villa owned by Bobbette Tegano, the mother in law of Joey Cusumano, a member of Nevada's Black Book of persons banned from entering casinos. He also proudly accepted the nickname "Flash," after it was coined by one of his new friends.
Police officials upset by DA's failure to prosecute McDonald
LAS VEGAS SUN
Wed, Oct 18, 2000
But clearly, Metro's top brass and the intelligence detectives who investigated McDonald on charges of abusing the public's trust are not pleased with Bell. "Nobody's happy," one ranking police official said. "A lot of work was put into this." The feeling at the high command is that McDonald must be held accountable somewhere, maybe on the ethics front.
It Pays to be a Las Vegas City Councilman!
November 2, 1999
LAS VEGAS TRIBUNE
By Steve Miller
This past Spring, McDonald made two major changes in his lifestyle; he quit his job as a Las Vegas Metropolitan Police officer, and he moved into a lavish 2,300 square foot bachelor pad at 9016 Opus Drive on the opulent Canyon Gate Country Club. Mike's new digs are evaluated by the County Assessor at $328,480.00! The villa is loaned to the councilman rent-free by Bobette Tegano, the mother in law of Joey Cusamano. Mr. Cusamano, who is listed in Nevada's Black Book of "undesirables" banned from casinos, is an associate of Rick Rizzolo, the owner of the Crazy Horse Too topless club.
Political uprising - Councilman surprises critics
Erin Neff
LAS VEGAS SUN
Sunday, Sept. 19, 1999
McDonald, who has lived in a small home in an older neighborhood on Carmen Boulevard with his parents, recently began leasing a home in Canyon Gate Country Club. The home, which is owned by the Bobett Lee Taylor living trust, was sold in 1995 for $282,000, according to county assessor's office records. Real estate agents told the Sun that the home is likely valued at about $500,000 today and that lease payments could run $2,200 a month. McDonald refuses to disclose his lease payments, except to say "I pay my share." McDonald's critics have already alleged the home is paid for by one of the councilman's many high-placed friends, who include Rick Rizzolo who owns the Crazy Horse Too, a Las Vegas strip joint.
Mike's Rolex Ticks Off His Final Minutes In Government
INSIDE VEGAS by Steve Miller
American Mafia.com
May 19, 2003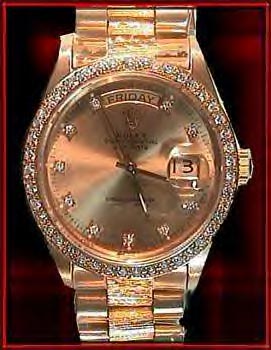 Mike's Rolex President, value used: $25,000

Only in Vegas could a humble 33 year old police officer who had the good fortune to be elected to the City Council get away with flashing an expensive watch and not have to explain the circumstances behind its acquisition.
McDonald calls Mob associate Rick Rizzolo a "Pillar of the community."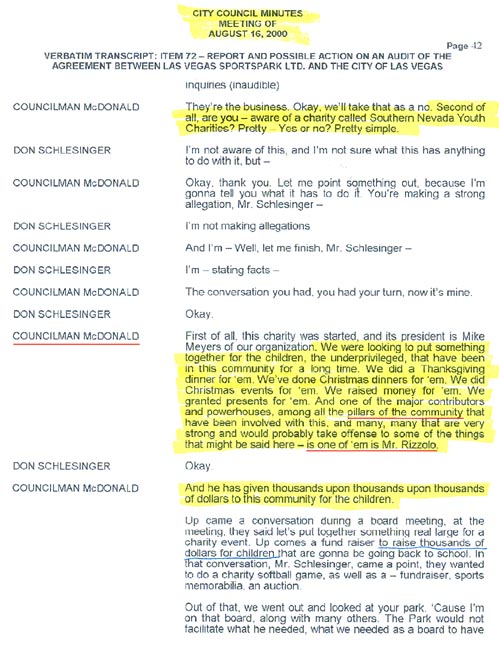 ---

Former councilman buys his first home
Sunday, May 16, 2004
Copyright © Las Vegas Review-Journal
By BRIAN HAYNES
REVIEW-JOURNAL

Former City Councilman Michael McDonald bought his first home Friday, a day before it was scheduled for auction. McDonald said he paid between $500,000 and $700,000 for the home at 2520 Pinto Lane, near Rancho and Alta drives. He declined to be more specific... Before the election, McDonald acknowledged he was a paid consultant to strip club owner Michael Galardi, who would later plead guilty to federal corruption charges. McDonald has not been charged with any crimes in the investigation, which ensnared several other local officials, including former County Commissioner Erin Kenny, who recently bought a $869,000 house in Summerlin.
---

Steve Miller Interview: Crime and Corruption in Present day Las Vegas
CasinoOnline.co.uk © 2015
Miller first began investigating Rizzolo when the strip club owner opened a new, extended bar "without a building permit; additional parking spaces; traffic plan; or certificate of occupancy from the fire department". To still be legally allowed to open any sort of public entertainment venue without any of these requirements would usually be impossible and Miller became interested about just how Rizzolo had obtained the permission of officials such as former Las Vegas Councilman Michael McDonald.For the past eleven years, Miller has documented the exploits of Rizzolo and his council cohorts (McDonald wasn't re-elected in 2003 and it has since been discovered he was receiving kickbacks of $5,000 a month from Rizzolo)

---

Steve Miller writes internationally syndicated columns on organized crime and political corruption for Rick Porrello's AmericanMafia.com, and the Canada Free Press.
Visit his website at: http://www.SteveMiller4LasVegas.com/
________________________________________
Steve is a former LV City Councilman who believes some things that happen in Vegas should not stay in Vegas.
In 1991, Steve was voted the Most Effective Public Official in Southern Nevada by the Las Vegas Review-Journal Reader's Poll.
In 1998, Steve was inducted into the Nevada Broadcasters Hall of Fame.
In 1999, the Las Vegas Review-Journal's special edition THE FIRST 100 listed Steve in a historical record of the people who contributed most to the shaping of Southern Nevada.
In 2011, Steve was inducted into the Las Vegas Rock and Roll Hall of Fame.