| Home | Books and Gifts | Photo Album | Mob Busters | Mafia Site Search |
2-24-03


-------------------------------------------------------------------------------------------
Steve Miller is a former Las Vegas City Councilman. In 1991, the readers of the Las Vegas
Review Journal voted him the "Most Effective Public Official" in Southern Nevada. Visit his
website at: http://www.SteveMiller4LasVegas.com
-------------------------------------------------------------------------------------------

80 Feds Raid Mobbed Up Boob Bar
INSIDE VEGAS by Steve Miller
AmericanMafia.com
February 24, 2003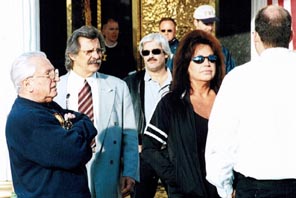 Federal agents raid topless bar (LV Review Journal photo).....Bart and Ralph Rizzolo, the Reverend, Dr. Annette Patterson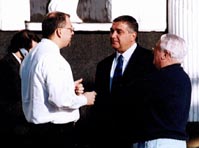 Attorney Tony Sgro, Vinnie Faraci and Bart Rizzolo ..Rev., Dr. Annette, Ralph, and Bart Rizzolo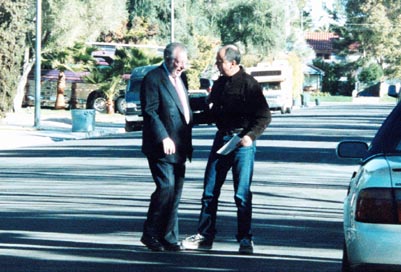 Las Vegas Mayor Oscar Goodman visiting author's home, 2/21/03
(Photos by Mike Christ)
"If (the government) wants you bad enough, it'll get you," - Impeached former Federal Court Judge Harry Claiborne
LAS VEGAS - Five Nevada politicians including former state Senator Floyd Lamb, former Clark County Commissioner Jack Petitti, and former Federal Court Judge Harry Claiborne were convicted in the 1980s of charges that stemmed from Operation Yobo, a legendary undercover FBI investigation of Sin City's blatant political corruption.
Lamb served nine months in prison for taking $23,000 in bribes from an undercover FBI agent. Petitti was convicted of taking a $5,000 bribe from an FBI undercover agent posing as a developer and was sentenced to six months in prison.
Claiborne was convicted of tax evasion and served 17 months of a two-year prison sentence. In 1986, while serving out his prison term, he became the first federal judge in more than 50 years to be impeached and removed from office.
Claiborne, prior to being appointed to the federal court, was the law partner and mentor to then criminal defense attorney, now Sin City Mayor, Oscar Goodman.
Attorney Goodman, represented Claiborne during his two criminal trials and his impeachment proceedings in Congress. Over the years, several ex-FBI agents have privately indicated there was a fear at the bureau that Claiborne might have been tipping off the mob to various investigations.
In hindsight, Claiborne explained he wasn't very smart about the way he reacted when told that an ambitious Las Vegas FBI agent was looking to nail him. "My only reaction was I haven't done a damned thing, and I don't give a damn what he thinks of me. That was downright stupid. I should have been cautious. I should have known they would have gone after me for tax offenses," Claiborne said after he was convicted.
How soon they forget!
At 5 AM on Thursday, February 20, while family members watched, 80 agents from the FBI, DEA and IRS, with guns drawn, removed cash registers, files, video surveillance equipment, computers, and unidentified materials from the Crazy Horse Too topless bar in Las Vegas.
Rick Rizzolo, the purported owner of the converted warehouse bar located in a seedy industrial neighborhood west of the Vegas Strip, has long been suspected of being a front man for Chicago mob figures who may have hidden ownership in the business. Of particular interest is that Rizzolo receives a $20,000 per month consulting fee from the Crazy Horse Too bar in Chicago, though its unknown what he does for the money.
I have been reporting on what I consider serious criminal activities at the politically connected bar since 1999. Since writing INSIDE VEGAS for AmericanMafia.com, interest in the mobbed up topless bar has burgeoned. I receive E-mail inquiries from around the world from journalists who are following the Crazy Horse story, and especially its possible connection to now Las Vegas Mayor Oscar Goodman.
Goodman, prior to being elected Mayor of Sin City in 1999 was a well known criminal defense attorney. In addition to his former law partner Harry Claiborne, his client list included Rick Rizzolo and his cousin Joey Cusumano, along with notorious gangster Joey "The Clown" Lombardo, brother of Crazy Horse manager Rocco Lombardo. Cusumano, a member of Nevada's infamous Black Book, is suspected by many of having hidden ownership in the Crazy Horse along with others - the possible basis behind Thursday's raid.
In answer to a reporter's question about the reason 80 federal agents stormed his bar, Rizzolo voiced a suspicion that investigators have an informant who is "telling them a bunch of baloney." But its not that simple.
Its possible that Thursday morning's federal raid could have been avoided if city officials had taken timely action immediately following the beating of Kansas tourist Kirk Henry, but they didn't.
After the Henry incident, I went so far as to make a formal request to Mayor Goodman that he bring the trouble plagued bar before the City Council on a Show Cause Hearing. He refused.
Then instead of bringing pressure on Rizzolo to stop the violence, Goodman sponsored a custom designed ordinance to allow his bar to expand; allowed city engineers to design a taxpayer funded turn lane and driveway into the proposed new bar; and legalized employment of teenage strippers at city topless bars after the county outlawed them. The Crazy Horse is located within the city limits. Most other adult businesses are in the county. The Mayor's decision gave Rizzolo a competitive advantage as teenage strippers are a big Sin City attraction.
In the meantime, Goodman's campaign manager and advisor Tom Letizia served double duty as Public Relations Director and apologist for the Crazy Horse Too, while his uncle Tony Letizia, an official with the Nevada Department of Transportation, was suspected of assisting his nephew in planning for a publicly funded turn lane and driveway into Rizzolo's dream bar.
At 4:30 on the afternoon of the raid, Mayor Goodman called to ask if we could meet. At 8:30 the following morning, the Mayor's car pulled up in front of my home. He had never visited me before, so I took particular interest. I also alerted a photographer. The Mayor's official car was driven by a large man who appeared to be his bodyguard. The driver stared at me continuously during our meeting but did not notice the cameraman in a truck parked across the street.
Oscar exited the black Cadillac and we met in the middle of the cul-de-sac. Goodman shook my hand and gave me a little hug. He started by saying he respects the First Amendment. He then said, "There is nothing I can do regarding a Show Cause Hearing while a federal investigation is underway, I hope you understand." I told him I fully expected him to say exactly that, and his reaction after the fact was "too little, too late." I said that since I first asked him to bring his former client before the Council, there have been additional beatings and robberies that he could have prevented. He appeared uncharacteristically nervous as I pointed to this story about to appear in AmericanMafia.com. At that point, with his head slightly bowed, he turned to leave - hardly acting like the "Happiest Mayor in the world" as he so often proclaims. I felt sorry for him because I believe he has a good heart but is caught in an irremediable situation based on past friendships.
Before he left, I handed the Mayor a revised printout of the "Rick Rizzolo Connection" web page with this new verbiage added:
"Police records reveal nine assault and six robbery cases all involving Crazy Horse Too employees, along with 737 police responses in just 3 years - but there have been no criminal prosecutions! While the violence continues, our former mob lawyer turned Mayor, Oscar Goodman, coddles Rizzolo and his friends, some who were Oscar's former law firm's clients. On October 25, 2001, I asked the Mayor to bring the Crazy Horse Too before the City Council on a Show Cause Hearing to defend its privileged license. He refused, and the violence continued."
I told Oscar he needed to read it. As he was driven away, he was observed carefully reading the printout.
Rizzolo, a more than generous political campaign contributor, has long been suspected of receiving political favors from local judges, police officers, and public officials as pay back for his largesse. As an example, on the morning of the raid, "Buffalo" Jim Barrier who owns two businesses that flank the topless bar, arrived at his auto repair shop at 8 AM to find a black 2003 Ford pickup truck parked in a controversial Fire Lane that had been installed alongside his garage by city officials several months earlier.
Barrier, a former professional wrestler, contends the Fire Lane was arbitrarily placed there as a favor to Rizzolo by the Mayor and City Councilman Mike McDonald to discourage customers from patronizing his garage and his wrestling school.
On occasions when the vehicles of Barrier's hapless customers are spotted lingering in the new Fire Lane, a City Parking Enforcement scooter allegedly is summoned by the Crazy Horse and dutifully arrives on the private property within minutes along with tow trucks. That takes juice especially when the city does not enforce the same rules after dark when the topless bar is full of patrons! Barrier considers it blatant political harassment. He claims it could only happen with help from top city officials who are covertly assisting Rizzolo in making Barrier's garage and wrestling school businesses move so the bar can expand.
As trivial as it may sound, the Barrier/Rizzolo feud is being closely scrutinized as a link which may show the depth of patronism between Rizzolo and certain public officials.
Rizzolo initially was allowed to expand his club by 6,000 square feet in 1999 without required permits, inspections, or increased parking after his close friend Councilman Mike McDonald removed a pornographic book store to make room. City Fire Department officials also refused to recalculate the fire capacity of his new addition, albeit, this happened under the watch of Jan Jones, the previous Mayor who was a frequent guest at Rizzolo's Vegas and Newport Beach estates. The surprise addition caused overflow parking problems in the neighborhood, so much so that Rizzolo's next door neighbor, Marshall Russo, Inc. placed concrete barriers on their property to block Crazy Horse patron's cars.
After irate neighbors filed suit against the City, Rizzolo's lawyer falsely told the City Council he had leased Marshall Russo's parking lot. The City took no action and the neighbor's lawsuit was soon dismissed by a friendly judge. However, the barricades remain on Marshall Russo's property to this day and bar patrons park in the nearby residential neighborhood.
Thursday morning while his business was surrounded by FBI agents who were busy scavenging through the Crazy Horse, Barrier made a call to police to report the improperly parked truck. Barrier fumed that if the truck belonged to one of his garage customers, it would have been impounded. Metro did not respond to Barrier's complaint. It has become customary for the police to only respond to parking complaints called in by the Crazy Horse. After waiting an hour, a friend of Barrier summoned an idle police officer from in front of the besieged bar.
According to witnesses, the officer observed the truck and immediately walked over to Ralph Rizzolo, Rick's brother. His action indicated that he knew who owned the truck and wished to personally inform him of the complaint. According to witnesses, Ralph did not remove his vehicle for several more hours and the officer did not protest his inaction even though the Fire Lane remained partially blocked. Barrier believed that the cop did the Rizzolos a favor, something that certain Vegas police officers have often been accused of in the past, and something he felt the feds needed to know. The anomaly was reported to federal officers along with the Vegas cop's badge number.
In the meantime Rick Rizzolo who was out of town during the raid was contacted by his sister, the Reverend, Dr. Annette Marie Patterson, and told of the situation. He arrived shortly thereafter to help prepare for the reopening of the topless bar. The bar opened to a sparse crowd later that evening after new cash registers were obtained.
Following the Mayor's visit to my home, I was asked my opinion as to why he came? I could not answer the question. I'm usually one of Goodman's biggest fans because I know he has our city's best interest at heart, but this time his allegiance to several of his former clients appears to be taking precedence over his love of our community. His nervous visit may have reflected that fact.
After the Mayor refused to bring a Show Cause, federal agents came in to clean up a mess Goodman should have handled in less than ten minutes. Meanwhile, Sin City has been disgraced more than a hooker who got paid with a rubber check!
Now it may be too late to help Goodman or his erstwhile colleague Mike McDonald who Goodman once signed a Recall Petition to oust, and has referred to as a "government rat," a "wimp," "vermin," the "lowest form of human being," and a "sleazeball."
If the two feuding politician's names appear in confiscated documents or from the lips of informants, the legendary Operation Yobo may be made to look like child's play!
Side notes:
#1. On August 1, 1997, Bart Rizzolo, father of Rick, Ralph, and the Reverend, Dr. Annette, made this statement after Crazy Horse bouncers severely beat Scott Fau who was later found dead next to the tracks behind the bar, "There has got to be a way to get back at people who file lawsuits. There has never been a suit filed that we haven't beaten and I'm hoping our record will stay that way."
#2. On January 12, 2001, attorney Tony Sgro who represents the Crazy Horse filed a Defamation of Character lawsuit against this writer. Sgro alleged I falsely accused Rick Rizzolo of "Illegal and unethical activities." A trial is scheduled for June 3, in the court of District Judge Jennifer Togliatti - that is if Rizzolo is still available.
#3. On February 22, 2003, attorney Sgro said Rizzolo is considering suing the federal government. Then two days later he told Jon Ralston's TV audience that Rizzolo is also considering suing each and every involved federal agent personally to recoup money he lost during the FBI and IRS raid.
And, last but not least,
#4. Mayor Goodman is expected to endorse Mike McDonald in the upcoming municipal election. Also, Oscar has never denied that he may come out of retirement to serve on Rizzolo's "Dream Team" in the probable event the Federal Grand Jury comes back with indictments.
Al Capone and John Gotti must be spinning in their graves!
Copyright © Steve Miller
email Steve Miller at: Stevemiller4lv@aol.com
----------------------------------------------------------------------------------------------------------


----------------------------------------------------------------------------------------------------------
AmericanMafia.com
div. of PLR International
P.O. Box 23
Cleveland, OH 44072-0023
216 374-0000
Copyright © 1998 - 2003 PLR International