Rizzolo Caught in the Act of Spying on Neighboring Business
Las Vegas Tribune
FRONT PAGE
December 6, 2000
By Steve Miller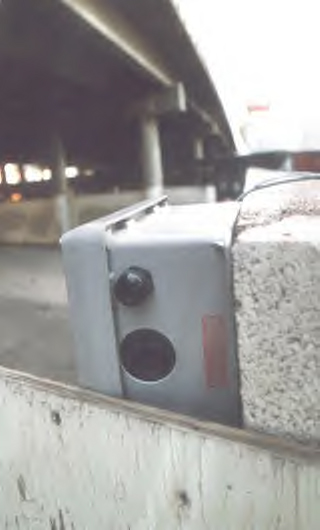 .
.
.

Photos by Mike Christ

(Left) Hastily installed camera. (Middle photos) Frederick Rizzolo and his bodyguards stand near ladder they removed.
(Right) Rizzolo and Al Rapuano make hasty retreat when police arrive.

LAS VEGAS – For the past two years, topless nightclub owner Frederick Rizzolo has wanted to expand his Crazy Horse Too strip joint into space leased by his neighbor Allstate Auto and Marine. The reason? In 1998, the Nevada Department of Transportation announced that it intended to widen Industrial Road thereby taking fifty parking spaces and the main entrance from the club. In order to remain in business at that location, Rizzolo would be forced to make major alterations to his leased building.

A feud developed between Rizzolo and Allstate Auto when the landlord, Renate Schiff, attempted, then rescinded (after Allstate filed a lawsuit against her), evicting the auto shop to make way for Rizzolo's planned new entrance. Rizzolo and Schiff had alleged that Allstate customers were blocking fire exits at the nightclub.

Allstate Auto has leased its 11,000 square feet from Schiff for the past twenty-two years with nine years remaining on its lease. Allstate pays 43 cents per square foot while Rizzolo reportedly pays many times that amount per foot for his space.

The catch? Neither Rizzolo nor Schiff has offered to buy out Allstate to make way for the Crazy Horse's expansion.

Last year, a racketeering lawsuit was filed by Allstate owner Buffalo Jim Barrier against Rizzolo and Schiff alleging a conspiracy to harass Barrier and his customers through the use of city inspectors. Named in the suit are Rizzolo's friends former Mayor Jan Jones and current Councilman Mike McDonald. Jones and McDonald are accused of ordering city officials to pester Barrier as a favor to Rizzolo.

Jones was a frequent visitor to Rizzolo's Canyon Gate home, and McDonald leases a Canyon Gate County Club villa valued at $500,000 from the family of Rizzolo's associate Joey Cusamano. The amount McDonald pays in rent has never been disclosed.

McDonald was recently convicted of violating city ethics laws when he was caught doing a favor for Rizzolo to help squelch competition from opening nearby.

In the meantime, employees of Barrier spotted an unusual box last week mounted on the roof of a building across the alley from the auto repair shop. Upon closer inspection an amateurishly installed television camera was discovered aimed at the back of Barrier's garage. Barrier summoned photographer Mike Christ to take photos of the camera installation for evidence in his lawsuit.

When Christ climbed onto the roof the take photos from in front of the TV camera, Rizzolo suddenly emerged from the rear of his nightclub accompanied by several persons Christ described as bodyguards. The men ordered Christ to stop taking pictures. When Christ refused, one of the men at Rizzolo's behest removed Christ's ladder thereby stranding the photographer on the roof. Christ called 911. While waiting for police, he took several photos of Rizzolo and his men standing below in what Christ described as an intimidating manner.

Rizzolo had often complained that Barrier was violating city health and safety codes by painting vehicles in the alley. Barrier denies doing so and suspected that the camera was aimed at his business to document such activities.

Prior to Councilman McDonald's conviction on ethics violations, neighbors of Rizzolo's business complained that city and fire inspectors ignored their complaints about unsafe conditions at the nightclub, but were quick to respond to Rizzolo's complaints. However, last week, for the first time, it was reported that Rizzolo was cited by city inspectors for dumping kitchen degreasing chemicals in the alley behind the Crazy Horse, along with having unapproved signage in front of his building.

A city inspector, who wished to remain unnamed for fear of retaliation, stated that this was the first time his bosses let him respond to a complaint on the Crazy Horse. He said he believed that it was because McDonald had lost his clout at city hall since the ethics convictions and recall effort against him.

When Metro Police arrived on the scene at the photographer's request, Rizzolo retreated back into the rear of his nightclub while his men were ordered by police to replace the ladder and let Christ climb off the roof.

Just before Tribune press time, it was reported that the camera aimed at Allstate Auto and Marine had been removed.

© Copyright Las Vegas Tribune, Inc.