"Loitering" Controversy Deepens
Lessee Claims City Hall Involvement
© Copyright Las Vegas Tribune
FRONT PAGE
June 19, 2002
By Steve Miller

..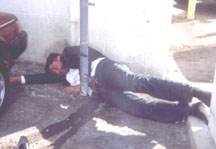 ..

Loitering man, 10/2/01 Loitering man, 11/30/01 "Loitering" Children, 6/12/02

LAS VEGAS – After numerous complaints of bar patrons being allowed to leave the Crazy Horse Too drunk - sometimes to later be photographed passed out in the parking lot or seen driving away impaired, topless bar owner Frederick "Rick" Rizzolo recently complained about children "loitering" on his property. He also criticized a tenant he wants to evict to make way for his bar's expansion by claiming the tenant, Buffalo Jim Barrier who owns two businesses in the center, lacks fire and building permits for his wrestling school located next to the Industrial Rd. topless bar.

"Get an insurance policy, get a fire permit, and get a permit to do that and I'll let him do anything he wants," Rizzolo stated after several dozen children picketed his bar on June 8, and again on June 12 after being told they are "loitering" when they attend Saturday afternoon televised wrestling matches at the BWF Professional Wrestling School. Rizzolo's statement about permits, however, flies in the face of his own previous actions.

On February 2, 1999, the Las Vegas Review Journal described how Rizzolo built a 6,000 square foot addition to his bar and opened the space to the public without first obtaining necessary fire or building permits. After nearby businesses and residents complained, Rizzolo applied for the required permits saying he took a chance and completed the addition with the expectation the zoning variance would be granted - and knowing if it wasn't - he would have to close the addition. "It's really all my risk involved," Rizzolo said, adding he likely would have sued the city if he had been denied the variance.

Protesters argued in vain that the expansion was built within 400 feet of low income Meadows Village apartment buildings housing hundreds of small children. Still, the Council at the behest of former Mayor Jan Jones, ignored the protests and, without precedent, approved the already completed expansion. The neighbors sued the city but the case was dismissed on a technicality.

Councilman Mike McDonald, who in 2000 was found guilty of ethics violations involving Rizzolo, abstained from voting on the permits after the Tribune published photos of a half-million dollar Canyon Gate villa owned by one of Rizzolo's associates that the Councilman was living in rent-free at the time of the hearing.

More recently, Rizzolo was criticized for letting customers leave the club drunk and drive away, and for using a city designated fire lane for valet parking. So far, neither the City Council nor Fire Department has acted on either issue.

The "TIPS" law - Training for Intervention Procedures by Servers - is a course required by law to be taken by all cocktail servers and bartenders. On October 10, 2001, the Las Vegas Tribune cited the TIPS law and called for Mayor Oscar Goodman to bring the Crazy Horse before the City Council for a Show Cause Hearing because of numerous complaints of patrons passed out in the parking lot or observed driving away from the club drunk.

Rick Rizzolo is a well-known political fundraiser known for giving politicians between $75,000 and $100,000 per year in campaign contributions. Mayor Goodman ignored the Tribune's plea to enforce liquor license (TIPS) laws against the generous bar owner.

Goodman before he was elected Mayor was the criminal defense attorney for several of Rizzolo's closest friends and associates though Goodman denies doing Rizzolo a favor based on his prior clientele. In the meantime, city officials continue to ignore complaints concerning drunks allowed to leave the bar and drive away, or valet parked cars blocking the fire lane.

Again, the Mayor did not call for a Show Cause Hearing when Rizzolo explained,"A customer leaving the club drunk did trip, but in no way was this man beaten," concerning injuries sustained by a Crazy Horse patron on Sept. 20, 2001, resulting in a broken neck and quadriplegia. Several witnesses reported that Kansas tourist Kirk Henry was beaten by bar bouncers while being ejected.

Even with Rizzolo personally admitting that customers leave his bar drunk – many observed driving away in their own vehicles - Mayor Goodman's only response to this newspaper's call for a Show Cause Hearing was to telephone the Tribune and say that he was not doing Rizzolo favors based on his former law firm's representation of Rizzolo's friends.

In direct contrast, on May 15, the City Council revoked the liquor license of Rageh Hashem who owns Food Fair Market, 632 H St. The council revoked Hashem's liquor license saying he had not stopped illegal activity allegedly occurring in his parking lot. Metro Police described the lot as a haven for loitering and drug deals saying there were 200 calls to police last year. City Council observers suggest that Hashem was treated unfairly in light of the number of police responses to calls at the Crazy Horse during the same time period.

Barrier, a 21 year tenant in the center, claims Rizzolo who purchased the center in May is now trying to break his long-term leases to make way for the Crazy Horse to take over his space. However, Rizzolo has never offered to buy out Barrier's leaseholds and denies he wants to expand his bar, though the Nevada Department of Transportation has released plans for the widening of Industrial Rd. that show the taking of the bar's present entrance and much of its parking lot.

Barrier claims his new landlord is harassing him and his customers to force him to move out for free. Barrier also suggests that city officials are secretly assisting Rizzolo in the effort.

The writer of this story is a former Las Vegas City Councilman.