Rizzolo and his mouthpiece complain in vain
INSIDE VEGAS by Steve Miller
American Mafia.com
September 29, 2003

"Virtually every week, Mr. Miller writes an article disparaging Mr. Rizzolo. I understand the importance of a free press. Mr. Miller is certainly entitled to his opinion and he is entitled to express that opinion in print. What Mr. Rizzolo has always objected to is not Mr. Miller's negative opinions of him, but of the weekly misstatements of fact. In the hundreds of articles written by Mr. Miller about Mr. Rizzolo over the years, one would be hard pressed to find a single one that was not replete with inaccuracies." - Attorney Tony Sgro, July 10, 2003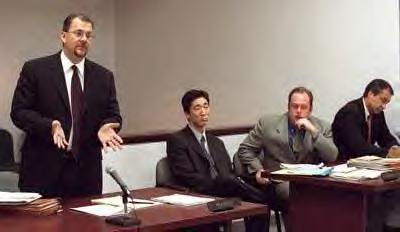 Attorney Tony Sgro, who represents topless club owner Rick Rizzolo, argues unsuccessfully
for a gag order against Steve Miller. At right are attorneys Dowon Kang, Chris Rasmussen
and Gus Flangas, who opposed the request. Miller chose not to participate in the Nov. 13, 2001
hearing that was attended by attorneys for the ACLU and Las Vegas Review Journal.
(RJ photo by Gary Thompson)
In response to Mr. Sgro's comments, and an aborted libel lawsuit intended to silence me, it is appropriate at this time to post assorted opinions other than my own to show that what I report in AmericanMafia.com about Rick Rizzolo is not "replete with inaccuracies."
I firmly stand behind the accuracy of my reporting and refuse to be intimidated by threats of legal action. If there have been inaccurate statements in my "hundreds of articles," then the parties quoted below need to also share the blame. To provide equitability, I include quotes in bold type from Rick Rizzolo, Bart Rizzolo and Mr. Sgro:
"Once outside, (Kirk Henry) was going to get in his car and (a) bouncer of Crazy Horse grabbed him around the neck, manually strangling him and twisting his neck. (Henry) then fell to the ground, recalling his body went numb and, lying there, found it hard to breathe." – Las Vegas Metro Police Report, September 21, 2001
"I talked to a witness who told me they grabbed the guy, snapped his neck, and when he went down they started kicking him." - James Barrier, neighboring business owner, October 5, 2001


Kirk Henry
"Mr. Miller also refers to another alleged beating that occurred at my club on September 20, 2001. No 'beating' ever occurred on my premises on that day. A customer leaving the club drunk did trip, but in no way was this man 'beaten,' About the only accurate fact reported by Mr. Miller was the club personnel were standing over the injured man. Of course, Mr. Miller does not mention that my employees were assisting the injured man, as that would ruin his insinuation that my employees had 'beat up' this man." - Rick Rizzolo, October 9, 2001
"Then can you explain to me how it is that my client goes into their establishment and ends up being a quadriplegic?" Attorney Donald Campbell, Oct. 5, 2001
"A criminal investigation involving the (Kirk Henry) incident was initiated by the Las Vegas Metropolitan Police Department. The investigation is now being (led) by the Federal Bureau of Investigation, and is active and ongoing." – Deputy District Attorney Mitchell Cohen, October 14, 2002
"I can't figure out what jurisdiction the FBI would have in this kind of a case because it is clearly a state court type of action. Whether it is criminal or civil, the FBI involvement in this case is still unclear." - Tony Sgro, October 27, 2002
"It is the second beating incident reported at the club in the past six years. Also, employees of the club are set to go on trial in March 2002 in the case of a customer who was found beaten to death behind the club in 1995." – Reporter Carol Wilkinson, KLAS TV News, Oct. 5, 2001


Scott Fau
"Mr. Miller misstated the facts of another case, facts which are again available to the public. Contrary to what Mr. Miller wrote, Mr. Fau was not found beaten to death. Mr. Fau was not even dead when he was found." - Rick Rizzolo, October 9, 2001
"Yeah, they're the one that beat up this Hawaiian guy (Scott David Fau) out there that was just - - the poor guy wasn't even moving, and they were kicking him, and, um, at that point that's all. They were just kicking him around, jumping on him, stomping on his arm. They stomped his leg. Kicked him in the stomach. They kept - Moe was kicking him in the head, and you just watched his head wiggle around. The manager guy would poke his head out the door, but he wouldn't walk out. He'd just - he'd open the door and look out and then step back in. I never seen - he didn't come out." – Dan Kennedy, eyewitness, January 24, 2001
"There was one guy on the ground kind of curled up in a ball, it looked like he was trying to protect himself." - Israel Bella, eyewitness, January 09, 2003


Jermaine Simieou
"Victim (Jermaine Malcolm Simieou) states as soon as they got outside, victim was struck while his arms were being held by a (Crazy Horse) bouncer, another person was hitting victim in his head. Victim states his arms were held by someone while he was being hit. Victim states he has a black eye, two chipped teeth, a possible broken nose, knots in his head and his shoulder is bruised." Las Vegas Metro Police Report, April 30, 2001
"The bouncers were shoving (Kenneth Kirkpatrick) around. Security then knocked him to the ground and punched and kicked him in the face and back of the head. Victim's arms were grabbed and he was handcuffed. Victim then states he felt hands in his pockets. A few minutes later his wallet was tossed into his lap, the handcuffs were taken off and he was told to leave. Later he discovered that $140 was missing from his wallet." - Las Vegas Metro Police Report, May 24, 2001
"I walked past two bouncers, I remember that they were at the exit. And as soon as I walked out the door, POW! Somebody clobbered me from behind, and sent me flying." - Paul Russo, December 31, 2002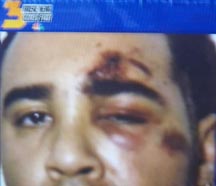 Paul Russo
"If a customer gets out of line, we help the guy out, we don't throw him out." - Bart Rizzolo, August 01, 1997
"I (Chris Johnson) went to the counter at the front door of the Crazy Horse Too topless bar with my ID and Visa card. Next thing I knew, a bouncer was pushing me away from the entrance for a reason I am not aware of. He pushed me into the parking lot and onto the curb. Then he pushed me again into the street where I fell twisting my ankle." – Victim's statement from Las Vegas Metro Police Report, October 21, 2002
"We strongly dispute the idea that Crazy Horse Too has not done enough to maintain order and civility within the club." "Given that more than than a thousand people a day come to visit the Crazy Horse ... It is unavoidable that the occasional incident will occur." - Tony Sgro, KVBC TV News, November 21, 2002
"At this time (Crazy Horse bouncer Moe) McKenna punched him on the right side of the neck causing him to fall to the ground. A witness to the incident: (name) had the names of the (name of company) cab drivers who allegedly observed the battery. Contact was made with (witness' name) who did not complete a voluntary statement. (cab driver's name) also stated that (Crazy Horse) security person Michael Muscato threatened him after he spoke with officers. No marks or swelling was seen on (Michael) Silverman and he refused medical." - Las Vegas Metro Police Report, May 30, 2002
"I disputed it right then and there because I didn't agree with the charges. I thought it was frivolous. And basically, I was coerced into signing the receipt... If I had 3-thousand dollars worth of lap dances -- I don't think I'd be walking by morning time... The bouncer, not the bouncer but the bartender said, 'If you don't sign this tab you'll get your ass kicked like anybody else around this joint.' basically, I was intimidated." - local man who wanted his identity protected, KVBC TV News, November 21, 2002
"In July of 2001, (Eben) Kostbar alleges he was beaten by bouncers at the Crazy Horse after a dispute over his tab." - Reporter Glen Meek, KVBC TV News, October 2002


Eben Kostbar
"Mr. Miller... could have no justification for publishing false and misleading information, especially considering Mr. Miller's inside information, Mr. Miller is a party to the lawsuits and has been privy to all information. Everything Mr. Miller reports is also public information and requires no diligence or investigative reporting. Yet, Mr. Miller, in his article, omits, skews, or outwardly lies about pertinent information." - Rick Rizzolo, October 9, 2001
"He violated department policies prohibiting officers from accepting gifts from suspects and consorting with persons of ill repute." - Clark County Sheriff Bill Young on a police officer taking money from Rizzolo, August 06, 2003
"Potentially, the civil case takes the doors to the inner workings of the Crazy Horse Too off their hinges and raises questions about whether so many men with suspect backgrounds are conducting criminal activity. It doesn't yet add up to an indictment, but it's more than enough to give Rizzolo a real pain in the neck." - Columnist John L. Smith, Las Vegas Review Journal, November 3, 2002
"There has never been a suit filed that we haven't beaten and I'm hoping our record will stay that way." - Bart Rizzolo, August 01, 1997
"The patrons of Crazy Horse Too scatter trash and garbage consisting of greeting cards of the dancers, used condoms, drug paraphernalia consisting of used needles and empty 'baggies,' discarded beer bottles, liquor glasses and pornography of various types. Recently, I arrived at my business to find my parking lot again, particularly soiled with the above items. I went to the Crazy Horse Too and spoke with Bart Rizzolo. I asked if be would send someone to my property to clean my parking lot. Mr. Rizzolo refused to do so. I told him I would sweep it up and bring it down to Crazy Horse Too and dump it out. He replied that, if I did, he would 'blow my f---ing head off.'" - from Affidavit of Robert L. Westphal, August 14, 2000


Bart Rizzolo
"While I was employed at the Crazy Horse Too, the 'dancers' engaged in an activity called a 'friction dance' wherein the male customer puts on a condom and the dancer straddles the customer and manipulates her body against the male customer so as to arose or gratify the sexual desire of the male customer." - from Affidavit of Sandra
Write-Kelemen, August 14, 2000
"Even damning documents filed recently in District Court that say he's the subject of a joint FBI-Metro criminal investigation fail to have Rizzolo chugging Maalox. Nor is he blushing that activities at his club are the subject of a federal grand jury." - Columnist John L. Smith, Las Vegas Review Journal, October 27, 2002


Frederick Rizzolo
"If you wanted to be a soldier for this leader, what would you do when some customer has the nerve to refuse to pay tribute to your leader's sanctuary or one of his 'broads'? I'm only surprised that they don't wear spats with their tuxedos and brass knuckles." - name withheld (current Crazy Horse employee)
"They take joy and delight in being able to hurt people. Just because. Just because they're bored. Just because they can and just because they know they'll never be held responsible for it... What are you gonna do if you're from the midwest and you've heard this is a Mafia town and the people that approach you are stereotypical Mafia types and they talk to you in a way that makes you believe you will disappear if you don't do it? what are you gonna do?" - former dancer, KVBC TV News, November 21, 2002
"For years, the management and `security' staff of the Crazy Horse has been infested by a rogues' gallery of thugs, thieves, drug pushers, and corrupt ex-cops. Most, if not all, have well-documented ties to organized crime figures who frequent the premises. All of this has nurtured a culture of violence marked by robberies, beatings and even death." - Former federal prosecutors Stan Hunterton and Don Campbell
"Unfortunately, Mr. Miller attacks more than just enemies; he mocks the public, the public's intelligence, and real journalism. With this unethical twisting of the truth, Mr. Miller... disgrace(s) even Yellow Journalism." - Rick Rizzolo, October 9, 2001
On February 20, 2003, two years after he filed his libel lawsuit against me, Rizzolo became the subject of a joint FBI - IRS criminal investigation. On July 28, 2003, Rick Rizzolo suddenly and without explanation dismissed his libel lawsuit with prejudice.
"Replete with inaccuracies?" Mr. Sgro, need I say more?
Copyright © Steve Miller