Bob Stupak assaulted by Binion family member at Piero's Restaurant
Las Vegas Tribune
FRONT PAGE
August 30, 2000
By Steve Miller
.
Bob Stupak and his attorney Jim Jimmerson at the Horseshoe Club cashierís cage in 1998 demanding that the Behnens return Stupakís safe deposit boxes of cash.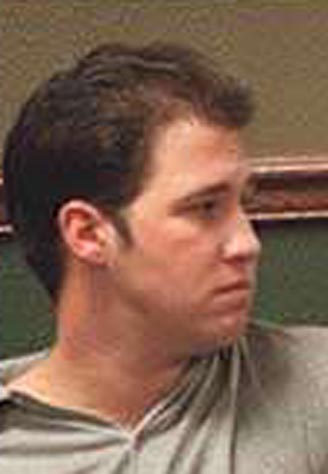 Benny Behnen, accused of assault and battery
Las Vegas Metropolitan Police Sergeant Chris Darcy informed the Las Vegas Tribune that at 9:23PM, Friday, August 25, Stratosphere Tower developer Bob Stupak dialed 911 on his cell phone to report that Benny Behnen and two unidentified accomplices had attacked and beaten him and his daughter Summer at Piero's restaurant on Convention Center Drive. A second call to 911 was also logged by Metro reporting the same incident.
Benny Behnen, 23, is the son of current Horseshoe Club owners Nick and Becky Behnen, and is the grandson of Horseshoe founder Benny Binion.
Stupak was reportedly seated with his twenty-three year old daughter Summer when, according to witnesses, Behnen began accusing Stupak of "stealing Horseshoe chips" and then physically assaulted the well-known gaming entrepreneur.
According to Summer Stupak, two unidentified men who she referred to as "Behnenís thugs" assisted Behnen. When Summer Stupak attempted to protect her 58-year-old father, one of the assailants reportedly swung a chair at her while threatening to "kill" her father.
Bob Stupak is still recovering from severe injuries suffered in a 1998-motorcycle accident that almost took his life.
Pieroís staff did not try to intervene according to witnesses. Restaurant patrons broke up the melee and Behnan and his two associates fled before police arrived on the scene and have not yet been arrested.
Summer Stupak was contacted at home by the police later that evening to make a report.
After the incident, the restaurant owner Fred Glusman reportedly ordered the Stupaks to leave, but only Summer complied with his request and her father stayed at the restaurant until police arrived. In an interview on Saturday morning with reporters, Glusman denied that the incident had ever occurred.
The Stupaks sustained undisclosed injuries and medical assistance was requested during one of two calls made to 911.


Stupak is a close friend of Becky Behnan's estranged brother Jack, and was a close friend of her deceased brother Ted.
In November 1998, Stupak unsuccessfully attempted to cash $250,000.00 worth of $5,000.00 Horseshoe chips at the casino. When he was refused, the story made national news. In July 1999, the Nevada Gaming Commission intervened and forced the Horseshoe to cash Stupakís chips.
Ted Binion's live-in girlfriend and her lover were convicted of Binion's murder in July 2000. Ted Binion was the son of Horseshoe founder Benny Binion.
Since the conviction, unsubstantiated allegations have surfaced alleging that the Behnans may have played a part in the death of Ted Binion. The charges surfaced in an effort by the Defendants to gain a retrial of their murder convictions, however, no evidence has been found to link the Behnan's to Ted Binion's death.
After being informed of the assault on her ex-husband and daughter, Stupak's former wife Sandy Bluman stated "I must have been naive because I thought Las Vegas was no longer run by thugs, but obviously that is incorrect."
At 1:15 PM Monday, The Las Vegas Tribune was informed that Summer Stupak was on her way to the Las Vegas Metropolitan Police Detective Division to file formal charges against Benny Behnen and the two unidentified persons who accompanied him Friday night. This information had not been confirmed at press time.
© Copyright Las Vegas Tribune, Inc.