Barrier Sues Rizzolo For Harassment
(click on photo to enlarge)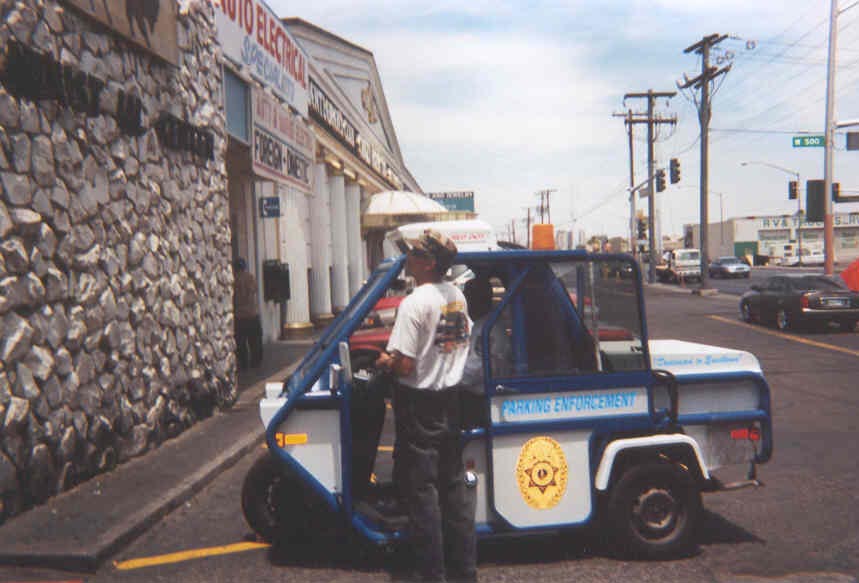 City Tickets in Fire Lane During Day Fire Lane is Valet Parking Lot at Night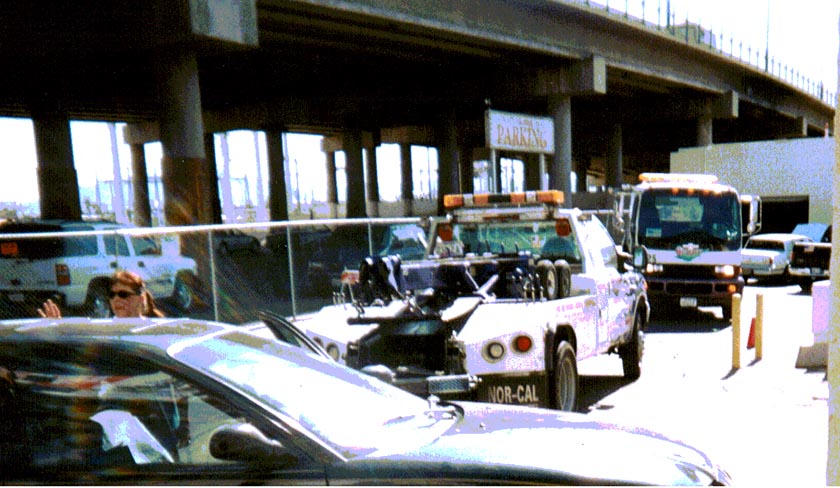 .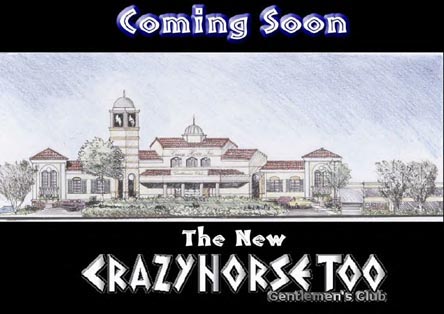 Allstate Customer Threatened withTow Expansion Plan

Help From City Hall Alleged
© Copyright Las Vegas Tribune, Inc.
June 26, 2002
By Steve Miller

LAS VEGAS - Gus W. Flangas, attorney for auto shop owner James "Buffalo Jim" Barrier, on June 19, filed a Harassment lawsuit against Barrier's new landlord, Frederick "Rick" Rizzolo, owner of RICRIZ LLC.

According to the complaint filed in Clark County District Court and randomly assigned to Judge Kathy Hardcastle; on June 9, 1988, Barrier entered into a twenty-one year lease with a previous landlord for his Allstate Auto and Marine, a business located next to Rizzolo's Crazy Horse Too topless bar on Industrial Road. In 2002, after exercising several options, the auto shop still has nine years remaining on its lease.

"For more than two years, there has been in existence, architectural plans, other renderings, and other plans providing for an expansion of the Crazy Horse. The Expansion Plans show the expanded Crazy Horse encompassing the entire Auto Marine Premises and possibly the BWF Premises," the complaint states.

Therein lies the problem according to Barrier; Rizzolo apparently wants the auto shop to move out for free since he has never offered to buy out Barrier's remaining lease. BWF is a wrestling school owned by Barrier that leases space on the opposite side of the Crazy Horse. Rizzolo has also threatened to evict BWF (LV Tribune, June 19, 2002).

"For almost two years, the principals, officers, agents, representatives and or employees of the Crazy Horse have been engaged in an effort to force Barrier from their respective premises so that the Crazy Horse can be expanded pursuant to the Expansion Plans. The said effort centers on a continued pattern of interference with Barrier's quiet enjoyment of their respective premises, interference with their respective businesses and harassment," states the complaint.

The complaint goes on to say, "…some of the Crazy Horse's efforts include: a. Participating in the setting up of phony Fire Zone restrictions using city property (i.e. Fire Zone Restrictive Parking Signs) on the parking area directly outside the south end of the Auto Marine premises, and threatening to tow and actually towing vehicles parked in the phony zones while at the same time using the phony zones for their valet parking at night. b. Harassing Barrier's customers and employees by threatening to tow their vehicles, and limiting the areas where they can park. Many prospective customers are hesitant to use Barrier's services because they are afraid that their cars will be towed if left with Barrier for repair. c. Coning off for its own personal use, the parking areas in front of the Auto Marine premises and the BWF premises which makes access to the respective businesses contained thereon difficult. d. For purposes of harassment, calling such agencies as the Fire Department to have their Fire Inspectors inspect the Auto Marine premises and the BWF premises, and calling such agencies as the City Parking Enforcement Unit to make special trips to the commercial center in the hopes of having Barrier's respective employees, agents, representatives and or patrons ticketed. e. Continually interfering with Barrier's quiet enjoyment of their respective premises, wherein for example, there are numerous incidents involving Crazy Horse patrons being intoxicated and disorderly outside the Crazy Horse premises, there are numerous fights and beatings taking place, and there is trash strewn about the area by Crazy Horse patrons."

The complaint then alleges that Rizzolo, "…acted with full knowledge of the consequences and damage being caused to Barrier, and its conduct was willful, oppressive and malicious."

In Barrier's Sixth Claim for Relief, it states, "In the absence of language to the contrary, every lease contains an implied covenant of quiet enjoyment. The covenant of quiet enjoyment is interpreted to secure a lessee against the acts and hindrances of a lessor and thus requires that lessor refrain from voluntarily impairing character and value of leased premises. RICRIZ breached this covenant of quiet enjoyment when it acted, as set forth more particularly above, in a manner that substantially interfered with Barrier's beneficial use or enjoyment of the leased premises constituting a constructive eviction of Barrier."

"The Conduct by RICRIZ if allowed to continue, will cause irreparable harm for which compensatory damages are an inadequate remedy. As a direct and proximate result of RICRIZ's actions, Barrier is entitled to injunction relief enjoining RICRIZ from further interference with their quiet enjoyment of their respective premises and from further harassment," states the complaint.

The complaint concludes by asking that a legal determination be made that the Auto Marine lease and the BWF leases are both valid, and that the court prevent Rizzolo from further interference with "quiet enjoyment of the respective premises," and from further harassment of Barrier, his customers, or employees.

Barrier claims that the harrassment began in 1998 when the Nevada Department of Transportation released plans to widen Industrial Rd. to six lanes and connect the throughfare with Martin Luther King Blvd. This would require the taking of more than fifty existing parking spaces and the present entrance to Rizzolo's bar. When this occurs, Barrier claims that Rizzolo will need his (Barrier's) leaseholds to build a new entrance and provide required parking.

Barrier previously told the Las Vegas Tribune that he believes certain city officials are secretly assisting Rizzolo in his effort to expand his bar. To prove his allegation, Barrier points out the posting of city fire lane signs on the side of his garage, and city parking enforcement scooters patrolling the private center several times per day - both actions beginning after May 1, when Rizzolo purchased the center. As another indication of city involvement, fire officials have repeatedly refused Las Vegas Tribune requests to enforce the fire lanes in the evening when the area is used as a valet parking lot for bar patrons.

Barrier also points out that Rick Rizzolo is a close friend of Councilman Michael McDonald, and that the Councilman until last year lived rent-free in a half-million dollar Canyon Gate villa owned by an associate of Rizzolo. Though McDonald denies helping Rizzolo and says their friendship has waned, he abstains each time items involving Rizzolo come before the City Council.

Rick Rizzolo has publicly stated that he contributes between $75,000 and $100,000 yearly to candidates for public office making him a bigger campaign contributor than many Strip hotels. Two trials are pending that involve the Crazy Horse; one for an alleged beating, the other for an alleged murder. Both relate to altracations between bar employees and patrons. Rizzolo has also sued the Las Vegas Tribune for libel and attempted to obtain a gag order to stop our reports.

Calls to Frederick Rizzolo or his attorneys were not returned.

© Copyright Las Vegas Tribune, Inc.