Topless bar claims another victim
Seven men - so far - have claimed to be mistreated in 2001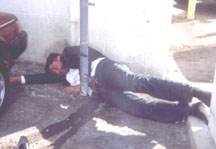 Man found unconscious on Nov. 30 Kirk Henry being removed on Sept. 20 Man found unconscious on Oct. 2

Las Vegas Tribune
FRONT PAGE
December 5, 2001
By Steve Miller

LAS VEGAS - For the seventh time this year, a patron of the Crazy Horse Too topless bar on Industrial Road has claimed to be roughed up by club bouncers.

At 9:30 AM, Friday, November 30, an unidentified man was found lying unconscious behind the bar. Neighboring business owners called police who revived the man.

"I just didn't want to see him come to, and then get in a car and drive away in that condition," said a witness who called police.

The inebriated man told witnesses that he had been drinking in the bar and had been "ripped off." He said that after he complained to management, he was escorted outside and roughed up by club bouncers. He was later observed crawling on his hands and knees through the bar's parking lot until he passed out.

Police remained on the scene for almost three hours Friday interviewing bar personnel and witnesses. The bar manager reportedly told police that an intoxicated man was escorted out of the bar but that he refused to be placed into a cab at the manager's insistence. The bar manager reportedly did not mention what occurred after the patron refused the cab ride.

The patron found unconscious on Friday had a large amount of cash on his person and the keys to a late model Land Rover SUV when police questioned him. No arrests were made. Bar owner Frederick "Rick" Rizzolo was not available for comment.

This was not the first time this year that a club patron was allowed to leave the bar drunk and go to his car. On October 2, another unidentified man was found lying unconscious near his running vehicle behind the Crazy Horse. Witnesses reported that the man spent twenty-six hours in the bar and was allowed to leave in a drunken stupor.

According to witnesses, the man reportedly staggered to his vehicle and started the engine. He then fell out of the vehicle, regurgitated, staggered a few steps and passed out on the pavement. When he could not be revived, onlookers called paramedics who transported him to a local hospital.

Following a front page Tribune story which referenced the man leaving the bar drunk and accessing his car, Mayor Oscar Goodman told this reporter that if any further life threatening incidents of this kind occur he might consider bringing the Crazy Horse Too before the City Council for a Show Cause Hearing.

NRS 244.350, states that the City Council may revoke a liquor license whenever there is sufficient reason. The Council is responsible to enact ordinances: "Prohibiting the sale or disposition of liquor in places where, in the judgment of the board, the sale or disposition may tend to create or constitute a public nuisance, or where by the sale or disposition of liquor a disorderly house or place is maintained."

At press time, it is not yet known whether Mayor Goodman intends to call a Show Cause Hearing on the Crazy Horse Too for this latest of many incidents. If Goodman were to do so, bar attorneys would be forced to show why their client should be allowed to retain his privileged business license. The Council would then have the option of revoking the license or placing the bar on probation to make sure no more life threatening events occur.

Frederick Rizzolo is known as a generous political campaign contributor and enjoys a close a relationship with local judges and other public officials who are often seen attending parties at his Canyon Gate home.

In other cases, persons who were not inebriated were involved in dangerous incidents at the Crazy Horse Too.

On September 20, another man was reported lying motionless in front of the topless bar. Kansas resident Kirk Henry claimed that he had been ejected from the bar for allegedly not paying an eighty-eight dollar bar tab. He then said that two bar employees beat him and took all his cash with the exception of one dollar.

One of the bouncers reportedly snapped Henry's neck causing his spinal cord to sever. Doctors report that his injuries have resulted in paralysis from the neck down. Henry, through his attorney Donald Campbell, has filed a lawsuit against the Crazy Horse. The Metro Police Robbery Detail is considering filing attempted murder charges against the two bouncers.

On May 24, Kenneth Kirkpatrick told police that he had a disagreement with the management of the Crazy Horse regarding the amount of his bill. In the police report he claimed he was forced to sign a charge on his Visa card for $220, and according to the report: "the bouncers were shoving (him) around. Security then knocked him to the ground and punched and kicked him in the face and back of the head. Victim's arms were grabbed and he was handcuffed. Victim then states he felt hands in his pockets."

A few minutes later his wallet was tossed into his lap, the handcuffs were taken off and he was told to leave. Later he discovered that $140 was missing from his wallet, the report stated.

Police submitted the case to prosecutors who obtained warrants for four Crazy Horse Too employees who were charged with robbery, battery, conspiracy to commit robbery, and coercion.

On September 28, California residents Joel Denney, Mark Bujuklian, and Sean Spanek filed notarized affidavits with Metro Police also claiming to have been beaten up by bouncers after they complained about being charged $400 for a bottle of champagne.

On August 4, 1995, Scott David Fau was found beaten to death next to railroad tracks behind the Crazy Horse Too. Witnesses reported seeing Fau being severely beaten by Crazy Horse employees in the parking lot after he was ejected. Fau's widow, through her attorney Randall Pike, brought a wrongful death action against the bar. The case is scheduled for trial on March 18, 2002.

On November 13, Rizzolo's attorney, Tony Sgro, unsuccessfully argued in District Court to place a Gag Order on the Las Vegas Tribune. The court dismissed the motion. Rizzolo has also filed libel lawsuits against the Tribune to try to stop ongoing coverage about incidents at his place of business.

© Copyright 2001, Las Vegas Tribune. All Rights Reserved.